---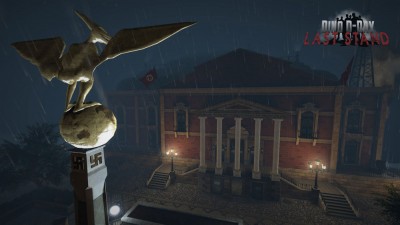 Update, DLC, Screenshots and More!
Jurassic-Sized Update!
That's right, an update that can only be described as "Jurassic" in that it has taken us approximately 55 million years to complete. But in that 55 million years, incredible change has taken place! Layer after layer, like sediment compacting into mudstone on the floor of a vast alluvial plain 170 million years ago in a time when dino—uh, wait. Sorry. Got lost in a geological metaphor there.
Where were we? Oh yeah, a Jurassic-Sized Update headed to a computer near you! It's been a long time since we've shipped a really great update to Dino D-Day. At long last, we've got one for you…and this one is special! Dare we say…it's our biggest update ever!
The Free Update Itself
Soon, everyone who owns Dino D-Day will get a free update. The update is quite large – a near-total replacement of the old game with a new one. We've migrated the entire game to a new branch of the Source engine which will allow us to add Mac and Linux support. Linux Dedicated Server support will be available when the update ships! Huzzah for cheap servers! We are shooting for Mac support to be available when the update ships as well. A Linux build of the game itself will be added as soon as we're able. There are still some things Valve needs to do to the code base before we can ship Linux.
In addition to all that dry, code-y stuff we've done a major visual overhaul. We are still working on it and the list of things we want to do is still fluid but you can expect a major overhaul of the game's visuals. Dino D-Day's UI has been totally redone. View models and their animations have been completely redone. Environments, characters, dinosaurs…everything is on the list and we'll get to as much of it as we can in the time we have left.
Dino D-Day: Last Stand
What is Dino D-Day: Last Stand? Why, it's the new game mode for Dino D-Day. Join up with your best, most lethal Nazi-dino-killing buddies and battle waves of bloodthirsty reptiles in thrilling, co-op survival-style combat. Earn gold to spend on upgrades and special abilities to better prepare you for those late rounds where speed, accuracy and a well-timed special ability like "Patriotic Blast" could mean the difference between life and death!
This survival-style game will be made available as a DLC pack for Dino D-Day when the aforementioned update drops. This will be a paid DLC expansion for Dino D-Day…something new for us since we've only done free updates up to this point. That being the case, let us take a minute to answer some questions some of you might have.
So the Survival Mode is paid DLC? Didn't you say it would be free?
Yes, we did. We initially began work on the survival mode and planned for it to be a free update to Dino D-Day. But it grew as we worked on it. More importantly, we started to view it as the core of what we thought would be "Dino D-Day 2". We merrily developed Dino D-Day 2 throughout 2013 and early 2014 as a survival style co-op game. Unfortunately, during this process we learned from Valve that they would no longer be licensing Source. This didn't kill it completely but it did severely limit what we could do with the game if we kept it on Source. So we were in a dinosaur-sized pickle you might say.
After much deliberation we decided that we just couldn't finish a true sequel to Dino D-Day on the Source engine. We thought that would get us out of the pickle…instead we realized the first pickle we were in was contained within an even larger pickle. That being…what do we do with all this Source stuff that we've been working on? It was pretty far along in development and we didn't want to just throw it away. So the idea of doing a massive update to the existing game came up. And with that update, shipping the survival mode…which was going to be the core of Dino D-Day 2. Given how much time and money has been put into the survival mode and this update we simply had to charge for it. Like all indie game developers, everyone here drives a Rolls-Royce so unless we charge for things we're unable live the lifestyle we're accustomed to. Weekends in the south of France, super-model girlfriends, and exotic animal collections don't come cheap. And there's a recession on (or something). It's never been harder to be a filthy rich independent game developer so gimme, gimme, gimme. Wait, we misspelled some of that. "Rolls-Royce" should be "Buick". "Weekend's in the South of France" should be "Chuck E. Cheese's". "Super-model girlfriends" should be "wives wondering why we won't get a real job." And "exotic animal collections" should be "lice".
What happened to Dino D-Day 2?
More on that later.
What happened to Dino D-Day: The Animated Series?
More on that later as well. It's still in development.
When will the update and DLC ship?
We're in the final stages of all of it…so you'll see all of this unfolding over the next several weeks. The first step will be making it available for a beta period of some kind. You'll be able to opt in on Steam to check out the update, bug test, and give us feedback. We don't have final plans on how we'll handle the DLC survival mode yet but we know for sure we want to make it available for bug-testing and feedback from the community before the official ship date.
THANK YOU!!!
All kidding aside, we want to thank you for playing Dino D-Day and supporting the work we do. It's been a thrill working on this massive update and we're incredibly proud of what we've accomplished. We think everyone will really love the new game modes. And remember, though we will be selling the Last Stand DLC, a lot of new content is going into the game for free. When we first shipped Dino D-Day we were very new to the world of video games. Now, over 3 years later, we're a little more seasoned and we can't wait to show off what we've accomplished. Stay tuned!!!
The Devs
P.S.  Here are some WIP screenshots of what we've been working on.  Most of these are environments that still need a detail pass on them, and also one new aquatic friend.  These are all screenshots from within the game, with the exception of the Mosasaur, he is the game model rendered in SFM and then composited on a background.  Full Disclosure achievement unlocked!  More to follow!
---
---