---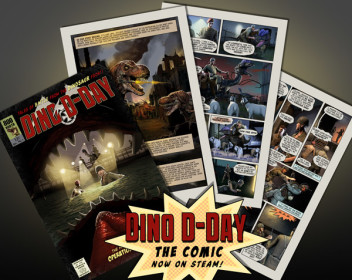 Free Weekend on Steam! New Dino D-Day Comic Debut!
That's right, Dino D-Day is free to play all weekend and available to purchase for 90% off!
In related news, this weekend also brings us issue #1 of the brand new Dino D-Day digital comic.  Let's face it, if you are already a big enough nerd to enjoy a video game about dinosaurs in WW2, you are a big enough nerd to read the origin story in a comic.  Embrace your hopeless inner nerd, like we have, and pick up this comic at Dino D-Day's Steam store page.
Operation Genesis tells the story of how Captain Jack Hardgrave and Nigel Blythe-Crossley first met: on a combined allied mission to a mysterious new Nazi installation on the French coast.  What is lurking within the damp concrete walls of this base?  Chances are, it is something with enormous teeth and rancid breath!  Nigel and Hardgrave  have to learn to work together and use all their dino-fighting know-how to deal with this new menace.  All the thrills, chills, and tongue-in-cheek humor of Dino D-Day the game, but now with story!  The comic DLC is available on Dino D-Day's product page, and will go straight to your game client.  Read it right from your main game menu, or as a high resolution DRM FREE pdf!  Excelsior!
But wait, you say, why do Hardgrave and Nigel look different than they do in the game?  The characters depicted in the comic book are derived from new designs created for the animated series.  The animated series is still in development, but in the meantime we wanted to show off the new looks for the characters in the comic.  A third character makes a brief cameo at the end, showing off her new look as well.  Hope you enjoy!
---
---